It's time for Thursday Five ladies!! Want to join in? Just list five things that have made you feel
this week and then come back here to link up! Oh yeah and make sure you include this button in your post, and invite all your friends to do so as well! Happy Thursday!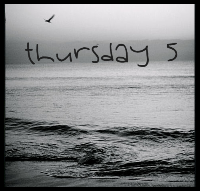 Here are my five:
I had a great Halloween with my love, we dressed as clowns and went out dancing. Everyone kept telling us we should have entered the costume contest because we were so cute together!
My dogs were super cute in their costumes as well...
My computer is finally fixed and you have NO idea how happy that makes me! It's so much easier to work now that I can access everything it took hours, and a complete system restore but it works! YAY!
I've finished my part of the recipe exchange cook book and am working on getting it out (Sorry Nicole) it's been a crazy week and it should have been out already.
AAAAAND.... in only a couple weeks I will finally be on my way to North Carolina to meet Nicole! EEk! I'm very excited to meet her and to just go there, I've been through the state many times but never actually stopped there!