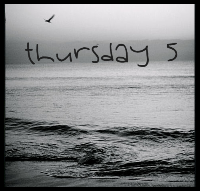 Good morning ladies! It's time for Thursday Five and I have had a pretty amazing week, aside from the fact that the Navy still has my husband. This week's list should be pretty easy for me, I hope you've all had an amazing week as well! This week I feel so...
Well here's my list, go ahead, grab the button, and start posting all that you have to be thankful for this week.
I received this absolutely amazing email from my sweet angel face hubby yesterday morning...
"Today the sun will rise, and the world will look as majestic and awesome as it has for eons! For some this will be the most important day of their lives however tragic or joyful it might be, and for others it will simply be just another day but know that for me my love it is another day in paradise consumed simultaneously by the terrifying thrill and joyful calm of loving you and having your love in return and as these words have brought that realization to light for me may they do so for you as well! I know that I get wrapped up in the everyday goings' on and sometimes forget to remember all that I have... that we have... (its to be expected I am only a man) but know that when I do its a splendid thing for me, have a great day today my love, have fun with it and know that I trust you and that my heart aches to know I can not be there to share the day with you! I love you Marie MUAH!"
I know I am blessed, but sometimes we all forget just how blessed we are. I was reminded several times this week & it made me stop and think. So I want to do something this week to make someone else feel blessed as well.
Those of you who are military wives know the importance of having either GOOD military wives in our lives, and how meaningful their friendship can be. Well I've found a few of those since becoming a Navy wife, and I am beyond thankful for it, there is one friend who has really stood out to me lately, she has motivated me in so many ways! I recently started going to the gym with her working out everyday, and i feel great! I wanna thank her, and I want her to know how important she is!
Happy. That's a word that is being used a lot lately. I have never been so happy in my life. My husband plays a huge role in that. This week I have many, many reasons to be happy, the list is too long to post! I will tell you one though, I am super excited to babysit this Friday night! You might think I'm wired but I absolutely love children and any chance I get to be around them makes me smile. :)
This week, as with many other weeks, I am grateful for my jewelry! It has kept me so busy & helped the time fly by til he is home again, I've started making plans to meet with Nicole which I'm super excited about, so the day he comes home can't come soon enough!