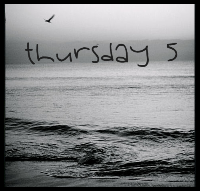 Hello ladies! I know I have been almost completely absent from the blogging world and I apologize. I'm still working on trying to get things together enough to the point where I can find time for blogging again. I've had trouble keeping up with my work now, and made a couple small mistakes so I've tried to work even harder so that doesn't happen again. Enough about that! It's time for Thursday Five! I've had an amazing week and have so much to be thankful for this lovely Thursday morning. So here are your five words for the day...
All you need to do now is come up with five things that have made you feel these words in the past week, then post about it, make sure include the button, then come back here and link up with the linky at the bototm of this post so everyone can share! Happy Thursday everyone!
ONE. My hubby is home.
TWO. I celebrated my 23rd birthday, and will celebrate my hubby's 26th birthday tomorrow!
THREE. My love is taking his E4 exam which has me excited!
FOUR. We have another long weekend which I am so excited about since I don't get him home for very long
FIVE.I am taking pin up photos in a couple days for his birthday present thanks to the beautiful
Christina Rush
, and I CAN'T wait!!