Well it's only 4:30AM and my sailor has already left for the day, sometimes I really dislike the fact that he is such a good sailor. He didn't have to be at work today until 6:30, but he went in early to finish up some of the programs he is in charge of to make things easier for the rest of the crew before he leaves on the ship again. Well the point is I'm up & blogging already earlier than normal, so it's time for Thursday Five. I know I have a few new followers lately, so if you aren't sure what I'm talking about & would like to join in, Thursday Five is a post I do every week. It's a great way to reflect upon your week and find the good in it even if it wasn't the best week.
All you have to do is think about the last week and come up with five items that fit in with the words I have chosen, for this week they are:
Content

Thankful
Adored
Giggly
So once you get your five things in your mind, all you need to do is post them, along with this button, then come back here to link up with the linky at the bottom so everyone can share!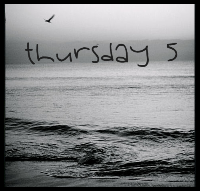 Here is my list for the week:
I feel blessed to be able to be a stay at home wife and spend as much time as I can with my husband, especially since his work days seem to be getting longer as the dreaded "D" comes nearer.
I was giggly last night when we watched "Horton Hears a Who" which was adorable.
I am content with having this week drag by since it's our last together for a little while.
I felt adored when I got a super sweet good morning text from my love after he left yesterday morning.
I am thankful for these last few days with my love and that the weekend is almost here.