Today has been a great day, I slept in for once after hubby left I was just really tired for some reason and didn't wanna get up. Finished the chores early, and patiently waiting for my hunnybun to come home. It's nice sunny outside and it feels great! I'm off to finish a few things and make dinner before he gets here, then we have the night to ourselves tonight, we will be lazy and watch movies. I can't wait. I wanted to share with you all the amazing recipe which we will have for dinner tonight it is
SUPER
delicious make sure you try it out! I have served it with "Cheddar Mashed Taters" which are also amazing!
Brown Sugar Meatloaf: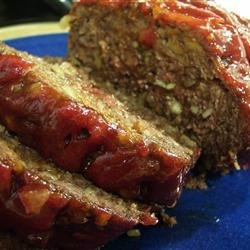 Ingredients
1/2 cup packed brown sugar
1/2 cup ketchup
1 1/2 pounds lean ground beef
3/4 cup milk
2 eggs
1 1/2 teaspoons salt
1/4 teaspoon ground black pepper
1 small onion, chopped
1/4 teaspoon ground ginger
3/4 cup finely crushed saltine cracker crumbs
Directions
Preheat oven to 350 degrees & lightly grease your 5x9 inch loaf pan with butter.

Press the brown sugar in the bottom of the prepared loaf pan and spread the ketchup over the sugar.

In a mixing bowl, mix thoroughly all remaining ingredients and shape into a loaf. Place on top of the ketchup.

Sprinkle more brown sugar on top of meat.

Bake in preheated oven for 1 hour or until juices are clear.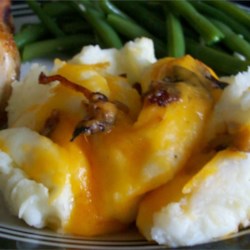 Ingredients
8 medium potatoes, peeled and cubed
1/2 cup sour cream
1/3 cup butter or margarine, softened
1 teaspoon salt
1/4 teaspoon pepper
1 cup shredded Cheddar cheese
2 bacon strips, cooked and crumbled
1 teaspoon minced chives
Directions
Place potatoes in a saucepan and cover with water; cover and bring to a boil over medium-high heat. Cook for 15-20 minutes or until tender. Drain and mash. Add sour cream, butter, salt and pepper; beat until smooth and fluffy.

Transfer to a greased 2-1/2-qt. baking dish. Sprinkle with cheese, bacon and chives if desired. Bake, uncovered, at 325 degrees F for 20 minutes or until heated through and cheese is melted.
As for the movie we just got in "The Curious Case of Benjamin Button" from Netflix, I haven't seen it before but I've heard it's an awesome movie so I'm excited to see it!